The following is a general transcript of the video below. For more information about Dale Dahlin, please visit his website or subscribe to his YouTube Channel for more helpful tips.
Hi. I am Dale D. Dahlin of Dale D. Dahlin, PC, LLO in Lincoln Nebraska. I'm an attorney and a bike rider, and I'd like to give you some tips on what to do if you're in a bicycle and car accident.
Get to a Safe Area after a Bike Accident
First, if you've been hit by a car while riding your bicycle, first get out off the roadway to an area that is safe. Some people get upset and go out after the vehicle. There're other vehicles on the road that could come by and hurt you more than what you've already been injured.
Get the ID of the Vehicle
The second thing to do is try and get identification of the driver especially if they don't stop. Try and get the license plate number, make, model,color of the vehicle. If they do stop, get the drivers name, address, telephone number and their insurance information.
Call Police
After obtaining the I.D. call 911 and get the police to come and make a report even if you don't feel like you're injured that bad. Get the police to come make a report, have them take statements from the other driver, give a statement to the police so your statement is included.
Check yourself for Injuries after a bike accident
After that check yourself out. Make sure that you're not injured. A lot of times, because of adrenaline, you don't feel injured and you can still be injured.
Get ID of Witnesses
Get witness identifications, their names, numbers, phone numbers, addresses so you can contact them.
Get Medical Treatment after a Bike Accident
If you have been hurt after the accident get medical treatment. If you need an ambulance, take the ambulance to the emergency room.
Hire an Attorney after a bike accident
I also think it's important for you to hire an attorney. If you contact the insurance company directly what you say to them could be used by them against you at a later time. What the attorney says to them is not an admission on your part that can be used.
Document Injuries and Damages
You should try and document your injuries and damages. Take photographs of your injuries. Take photographs of your bike. It's good to take, if you have evident obvious injuries, photographs of those right afterwards. And you can have your bicycle checked by a mechanic to see what damage there is there. At the scene of the accident, don't admit fault and don't say you're OK. A lot of times injuries become apparent afterwards.
Ride your bike on trails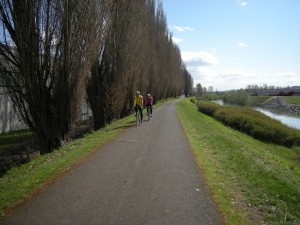 Another thing to think about is trying to ride on bike trails where there are no cars.
Again, after the accident take care of getting all the information that you need, and getting your proper medical care. If you hire an attorney they can help you with the process of dealing with the insurance company.
I (Dale Dahlin) have over 35 years of experience in handling injury claims including bicycle and car accidents. If you've been in a car and bike accident and need help call me at (402) 423-4300.
Dale Dahlin is also licensed to practice law in California.