Truck Accident Attorney, Semi-Tractor Trailer Collisions, Lincoln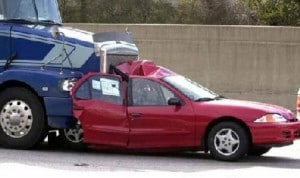 A claim or lawsuit for injuries suffered in an accident involving a commercial truck or semi-tractor trailer truck involves important differences from a claim or lawsuit for injuries from an automobile accident. For these types of issues you need a truck accident attorney.
One major difference is that commercial motor vehicles* and drivers are under the jurisdiction of the US Department of Transportation, Federal Motor Carrier Safety Administration (FMCSA) and are covered under Federal Motor Carrier Safety Regulations that set forth safety standards for trucking companies and truck drivers. A particularly important regulation sets forth the number of hours a commercial truck driver can be on the road in a given period of time. There are also regulations regarding maintenance of the commercial vehicles. There are requirements for the keeping of logs and records in regard to the truck driver's hours and the truck maintenance. These records can be important evidence in a claim or lawsuit for injuries from an accident involving a commercial motor vehicle or truck accident to prove negligence on behalf of the commercial trucking company or commercial truck driver.
Important records and evidence can be destroyed or lost if not obtained in a timely manner.
Why you need a Truck Accident Attorney
That is why it is extremely important that you contact Dale D. Dahlin, an experienced truck accident attorney, as soon as possible so that important records and evidence are obtained before they are lost or destroyed.
Due to the weight of the commercial motor vehicle the injuries suffered are often more severe than in an automobile accident. Often times, unfortunately, death can more often result in a commercial truck accident.
Dale D. Dahlin has over 30 years of experience in handling serious personal injury cases and wrongful death cases. He will personally handle your case so that you get the compensation you deserve for your serious injuries or for the death of your loved-one.
Use the form on the right or call Dale D. Dahlin, a truck accident attroney,  today at (402)423-4300 for your free consultation in his Lincoln office regarding your claim.
—
*A commercial motor vehicle in general is a vehicle that weighs over 10,001 pounds, is designed to carry more than 9 passengers for compensation or 16 passengers not for compensation or transports hazardous materials. (See FMCSA website, www.fmcsa.dot.gov)