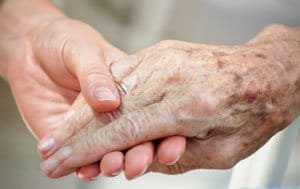 A nursing home resident is often unable to care for himself or herself, especially in the event of a national health crisis.  If the care provided by the nursing home is substandard or if there is nursing home neglect or abuse, the resident is often unable to take the action necessary to remedy the situation. Family members must take action when neglect or abuse is suspected.
Call Dale when you need a Nursing Home Abuse Attorney
According to the National Center for Elder Abuse, 2 million elders are abused in the U.S. every year.  Nursing home abuse falls under the Institutional Abuse definition.  Each state defines elder abuse according to its unique statutes and regulations.
In Nebraska, the Adult Protective Services Act defines elder abuse and provides guidance in this matter. This Act is set forth in Nebraska Revised Statutes, Sections 28-348 to 28-387. A person is covered under this Act if they are 18 years of age or older and have a substantial functional or mental impairment, that is, a condition that impairs a person's ability to live independently or provide self-care without services; or, he or she has a guardian that was appointed under the Nebraska Probate Code; and, there are allegations of abuse, neglect, or exploitation.
Many elderly persons have conditions that impair their ability to live independently and therefore, are covered under this Act.
physical injury
unreasonable confinement
sexual abuse
exploitation
cruelly punished
denied essential services
Someone convicted of elder abuse may be subject to a Class IIIA felony in Nebraska. The details of this statute are laid out in the law, and our office is available if you believe someone you know or love is being abused.  Other indicators of nursing home or elder abuse are emotional injury, neglect, and abandonment.
Indications of nursing home abuse include:
Fractures, bruises, cuts, abrasions or burns
An injury that does not make sense with the explanation given for its cause
Unexplained depression or withdrawal from regular activities
Unexplained weight loss
Bedsores
Poor hygiene
Tense relationships or arguments between your loved one and staff
Genital bruising, pain or bleeding may indicate sexual abuse
Unexplained change in finances since being in the care facility
It is important to note the signs of nursing home abuse and if possible, write down important dates and take photos to help us with the details of your case. One of these signs alone may or may not indicate abuse is present. Loved ones and visitors should take note and remain suspicious. Many of the elderly may suffer in silence, not wanting to burden others or they have been threatened or cajoled into believing that more harm will come to them. It is difficult to comprehend, but reports indicate that the abuser is usually a trusted caregiver. There is no social, economic, or gender bias when it comes to abusers of the elderly.
If you have suspicions that someone you know or love may be a victim of nursing home abuse, it is best to contact Adult Protective Services and Dale, a Nursing Home Abuse Attorney in Lincoln.  There are penalties for those who are involved with elder abuse.  As your lawyer will use our knowledge, experience with criminal and civil laws to get the justice and the protection your loved one deserves.
Older individuals who reside in nursing home facilities are valuable members of a family. They need to be protected. Many times, the elderly rely on friends and other family members to be advocates for their health and well-being.  If you know someone or have a loved one in a nursing home, and you notice that things "don't seem right" or that you have witnessed one or more of the signs of abuse, please call us. We want to help you help them before it is too late.
Elder Abuse is a Crime. Call a Nursing Home Abuse Attorney.
If you suspect neglect or abuse by the nursing home where your loved one resides, contact Dale Dahlin. Mr. Dahlin can discuss with you the options available. Mr. Dahlin can assist you in protecting your loved one and obtaining compensation for injury.
Call or contact Dale Dahlin at (402) 423-4300 for a free initial consultation.