Our Law Firm in Open.
If you have a legal situation that needs our attention, please use the Contact Us Form and Dale Dahlin will respond to your inquiry in a timely fashion. You can also call our office at (402)423-4300. We are meeting with clients via phone, texts and emails. Thank you and stay safe.
Dale Dahlin, Lincoln Personal Injury Attorney
Dale Dahlin, Accident Lawyer
You need a Personal Injury attorney who knows how to help when you've been injured. Call Dale if you were involved in an auto accident, truck accident, motorcycle accident, or an accident at work. If you were injured in another situation that was not your fault you can benefit from the expertise and experience of talking to a personal injury attorney.
With more than thirty years' worth of experience, Dale Dahlin is there for you. He takes the time to give you the personal attention you need when facing pain or loss due to someone else's negligence. When you or someone you love has been injured through no fault of your own, call the Accident Attorney that your neighbors in Lincoln call, Dale Dahlin.
You need an accident lawyer who can ease your pain
If you've been in an accident, chances are you may have been physically and/or emotionally hurt. You may have had to go to the hospital to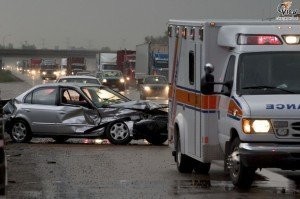 have your injuries evaluated and cared for. The accident may have put you out of work. You may still be out of work. If you were involved in an accident through no fault of your own, you deserve to be compensated for your injuries, damage, and lost wages. Insurance companies want to settle quickly and that is not in your best interest. Protect yourself and get the compensation you deserve. Call Accident Lawyer, Dale Dahlin, before you talk to any insurance company representatives or accept any settlement they offer.
It may be tempting to take what they offer. A quick resolution on your own may seem like your best choice at the time. That's what the insurance company wants you to think. Your injuries, loss of work, pain, and suffering, and future medical needs could be in jeopardy. Taking their settlement early, without talking to a lawyer, could put you at a serious disadvantage. We're here to help. We won't be a hindrance to the process.  Take a moment to read our reviews to understand what we can do for you if you've been in a car accident.
Dale Dahlin is the respected and experienced Personal Injury and Accident Lawyer you need. Call Dale Dahlin today at (402) 423-4300 to set up your free case consultation now.
Don't pay an attorney's fee until we win your case
When you hire Dale Dahlin to represent you, you will not pay a fee until he wins a judgment or settlement in your favor. When you're in pain, have lost time at work, have damage to property or vehicle damage due to someone else's fault, the last thing you need to worry about is paying for legal services. With Dale's contingent fee arrangement, you can be confident that he is working hard on your behalf without adding legal bills on top of everything else you're dealing with. Your health and getting back to your normal routine is your number one concern. It's Dale's as well.
Successful experience Contesting a Will
If you are the biological child of a person who has died without a will, you may have a right to inherit from that person. This will require sufficient proof of such biological relationships, such as DNA for contesting a will.
Also, if you are the relative of a person who died with a will, but you believe that will treats you unfairly and that it may have been procured through improper circumstances, you may have grounds to challenge that will. Such grounds include lack of mental capacity, lack of testamentary intent, undue influence, and fraud for contesting a will.
If you have one of these situations, contact Dale D. Dahlin. He has experience in successfully representing persons in such situations.
Dale Dahlin has earned a reputation based on integrity and professionalism. He delivers assertive and skilled representation to his clients. Use the form on the left or call Dale Dahlin today at (402) 423-4300 to set up your free case consultation now.